Ocean Towers
Ocean Towers - Condos located at Ocean Towers Santa Monica 
Ocean Towers are luxury condos located on Ocean Ave in Santa Monica. Ocean Towers condos, located in Santa Monica, offer luxury living in a great location.  With the Pacific Ocean nearby, residents of Ocean Towers are sure to catch some wonderful views of the surrounding shorelines and cityscapes.  The condos are ideal for those who want to experience upscale amenities in a convenient location, as Santa Monica boasts a number of shops, restaurants, and schools.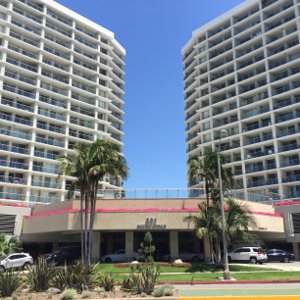 Real estate in Ocean Towers is a cooperatively owned community made up of 317 condos in a stunning high-rise.  Built in 1971, the magnificent 19-story building satisfies its residents every need.  Valet parking makes it easy to enter and exit the building, and a doorman is always present to greet and assist residents.  The rooms in Ocean Towers contain 1, 2, or 3 bedrooms, and supply views of the surrounding ocean, coastline, hills, or the city.  Renovations in 2001 provided a number of upscale upgrades.  Residents can enjoy life with their furry friends, since the building allows pets.
Ocean Towers is full of luxury amenities that harbor convenience for its residents.  A terrace entertainment area is perfect for hosting parties and cooking in the gourmet kitchen.  To keep active, there is a fitness room filled with the top models of exercise equipment.  To relax, residents can use the heated swimming pool with a sun deck or a Jacuzzi that overlooks the ocean for spectacular views.  Another way to unwind is the separate saunas for men and women.  Life in Ocean Towers is all about convenience, and the building provides a wealth of services:  car wash, dry cleaning, and dog walking, to name a few.  The lobby has a concierge who is available at all hours of the day to meet everyones needs.  Visitors can access guest parking spaces, making it easy for residents to entertain friends.
Life in Ocean Towers offers the chance to experience the fine shopping, dining, and entertainment in downtown Santa Monica.  There are more than 200 shops downtown and in the 3rd Street Promenade area with items ranging from designer clothing and home furnishings to handmade chocolates.  The open-air 3rd Street Promenade boasts dozens of shops and hosts fun events like popular farmers markets and outdoor movie screenings.  
Restaurants in the area cover a variety of cuisines to suit everyones tastes.  Ye Olde Kings Head features classic English fish and chips, while Border Grills Mexican dishes have been satisfying diners for over 25 years.  Santa Monica's proximity to beaches allows quick trips for outdoor activities, and its close location to Los Angeles brings the entertainment of a big city.  There is always something fun in and around Santa Monica for Ocean Towers residents.
Residents of Ocean Towers are served by the Santa Monica-Malibu Unified School District.  The schools offer high-performing programs, and several elementary and middle schools in the area have been recognized as California's Distinguished Schools.  Extracurricular programs emphasize visual and performing arts.  For alternative education, there are several private schools in the area as well.