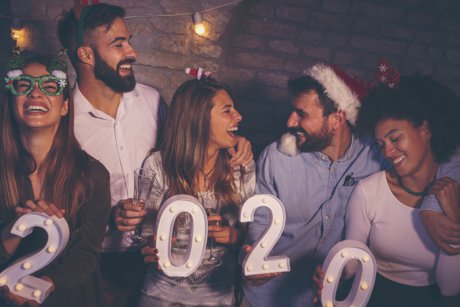 We only have a few short days left in the year, and we're ready to go out with a bang. It's time to celebrate the start of a fresh, new decade and whether you want black tie apparel, or a quiet night out, below is our list of recommendations for celebrating the New Year in Los Angeles!
The most popular way to spend New Years in LA is at N.Y.E. LA! Ring in the new year with a massive dance party at the West Coast's largest New Year's Eve celebration. Grand Park and The Music Center's N.Y.E.L.A. is the place to welcome in the New Year and countdown to midnight.
The event takes place at Grand Park + Music Center: 200 North Grand Avenue Los Angeles, California 90012. The event starts at 8:00pm on December 31 and ends at 1:00am on January 1.
The Bazaar and Gate Bar Centro
Grab your masquerade mask and head on over to Beverly Hills for cocktails and an amazing meal. The Bazaar by José Andrés is celebrating the end of a decade with two different events. There's a Spanish masquerade, with a menu packed with every decadence–oysters, truffles, caviar–available as an early-evening dinner or a seating intended for those who want to stay past midnight. Alternately, you could spring for a special experience at modernist cocktail bar Gate Bar Centro, adjacent to the Bazaar. The New Years Eve Flight includes Champagne, cocktails, and late-night access to the masquerade party. The Bazaar, 465 S. La Cienega Blvd., Pico-Robertson. Tickets $175-$400.
Is it December 1999 or December 2019? At CandiPop you can celebrate the end of the decade with the most popular music of the last 20 years! This year's CandiPop features all of your guilty pleasures -- Glitter, Lollipops, Rainbows, Unicorns and of course your favorite bubblegum pop favorites like the Spice Girls, *NSYNC, Madonna and Britney Spears, to name a few.
The event takes place at Don Quixote 2811 East Olympic Boulevard, Los Angeles the cover charge is $15.
NYElectric W Hollywood Rooftop 2020
The W's Rooftop is open any day of the year, but with its 360-degree view this is the perfect place to ring in the New Year. This one of a kind club is a hot spot for Los Angeles' trendiest and New Year Eve is no different.
The hotel is located at 6250 Hollywood Blvd, Los Angeles and the club cover ranges from $195 – $3,425.