The Top Ice Skating Spots in Los Angeles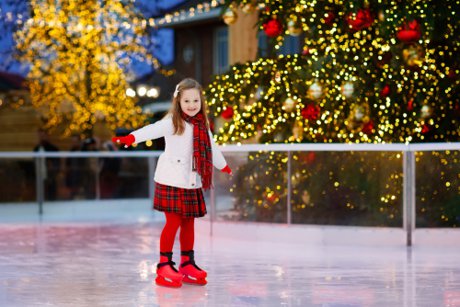 Just because we live in beautiful and warm Southern California, doesn't mean that we don't enjoy spending an evening sipping on hot chocolate and ice skating around a rink. Now that the holidays have passed and the world has begun to settle into the long month of January, we've listed a our favorite places to go ice skating this winter.
Holiday Ice Rink Pershing Square
Located in the middle of downtown LA, Holiday Ice Rink at Pershing Square offers locals a few months of ice skating and holiday bliss in the middle of the bustling city. Open until January 21, this winter extravaganza features a traditional ice skating rink with special events throughout the season, like curling lessons, a silent disco skate and DJ nights.
This family friendly activity is also priced for all, with One-hour skate sessions costing $9 and skate rentals costing just $5. There are only a few weeks left to enjoy the winter fun, so book your spot online today!
Visit the "coolest place in Pasadena" this winter and let your kids enjoy a day skating around in this chilly rink. Pasadena Ice Skating Center is open daily for public skating sessions, for a full list of dates, times, and ticket prices click here.
If a public session isn't for you, the skating center offers birthday parties and private events. They offer a variety of party packages available to fit your needs, and if you don't see something you like, they can also customize party packages. To book your event at Pasadena Ice Skating Center contact dduran@skatepasadena.com or visit skatepasadena.com.
Like Pasadena Ice Skating Center, the Iceland Skating Rink is a year-round indoor rink that offers plenty of winter fun after the holidays. The skating rink offers daily public sessions, with a full schedule of rink time listed here. In addition to daily and group rates, you can purchase 3-month and 6-month passed to the rink, which is particularly great for those who have little ones that one day dream of being a pro hockey player or figure skater.
Iceland Ice Skating Rink also offers classes for those of all ages, you can register for classes online here. Skate rentals and guest passes are included in the price of the lesson.