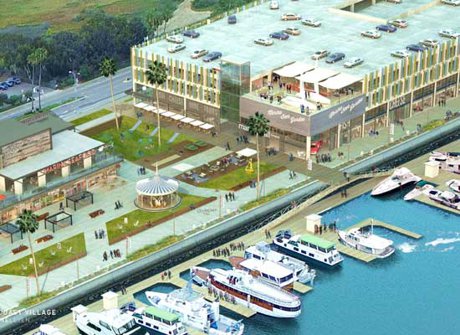 Picture via LA Curbed
Fisherman's Village is a landmark for those who live in Marina Del Rey, but we can all admit that it might be time for it to be revitalized a little bit. The village, which is made to look like an old New England fishing village, hasn't been fairing well over the last few years, with shops and business moving to more renovated areas of Silicon Beach.
The design for redevelopment has an upscale and modern look to it, making it fit right in with the urban appeal of neighboring Playa Vista.
A release from Studio One Eleven says that the main focus of the new Fisherman's Village is to create an "active open space" for visitors, like the 30-foot-wide "promenade" that will run between shops and the water, connecting to plazas and playground along the way.
The design also includes a new water recreation center, which will serve as a jumping-off point for kayaking and paddle-boarding jaunts. The idea is to provide a desired link to the ocean. "Fisherman's Village currently has no direction connection to the water, which is something we really focused on incorporating in our proposal," a consultant for Gold Coast Village said, according to LA Curbed.
This redevelopment would also be a huge draw for tourists and locals, increasing the local economy and bringing the community together. Fisherman's village is currently the go to spot for free summer concerts, dining out and fishing. With the revitalization, these old school entertainments will have a modern twist.
It's unclear if or when this vision for Fisherman's Village will get built. LA County has its own plans for the Village, which would entail totally demolishing the quaint but fading fake fishing town. For now though, you can spend your summer nights at the old, quaint Fisherman's Village listening to live bands and enjoying the New England inspired atmosphere while you still can.
This upcoming weekend, enjoy the contemporary styling's of Thin Ice on Saturday and the Country sensations Jimi Nelson and the Drifting Cowboys on Sunday. For the schedule for the entire month of August, click here!