Marina del Rey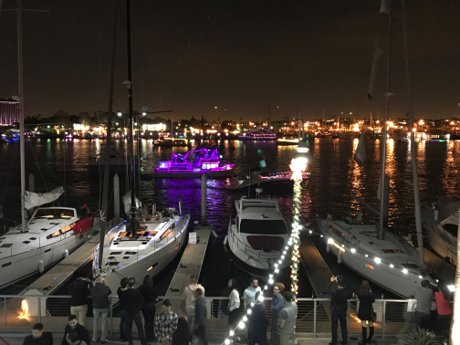 Holiday Boat Parade
Head over to the Marina this Saturday, December 11, to watch The annual Marina del Rey Holiday Boat Parade—a Marina tradition since 1963!
The first Holiday Boat Parade occurred when the Marina housed roughly 100 boats, and there were 20 parade participants. Today, there are close to 6,000 boats docked in the Marina, and the 2019 parade was put on with 70 boats.
As our city has grown and our community has multiplied over the years, the close-knit feel of Marina del Rey has stayed intact, and our traditions have held their roots.
Even through 2020 mandates, the volunteers who make the Holiday Boat Parade possible altered the traditional event to make it safer for residents and visitors.
This years Holiday Boat Parade theme is Joy On The Water, and the Grand Marshals are Steven Krems, M.D., Chief Medical Officer at Cedars Sinai Marina del Rey and Joanne Laguna-Kennedy, MSN, RN, CENP, the Vice President and Chief Operating Officer at Cedars Sinai Marina del Rey.
The 2021 Holiday Boat Parade is dedicated to the doctors and nurses who have worked tirelessly on the front lines of the pandemic, as a means of giving thanks.
Arrive at Fisherman's Village or Burton Chace Park early to catch the five-minute fireworks show that will begin at 5:55pm, followed by the Boat Parade at 6pm. Check here for parking directions.