Outdoor Fun in Los Angeles
Best Beaches in Los Angeles: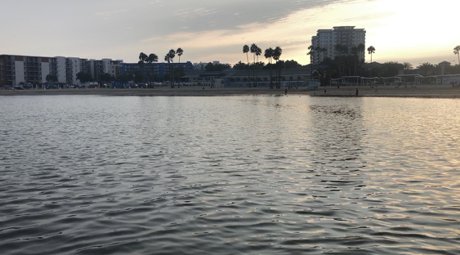 Living in Los Angeles comes with a ton of perks. There are award winning restaurants with diverse cuisine, famous shopping centers and quirky local businesses, theme parks galore, and breathtaking views of city lights and mountains. But the best perk is definitely the abundance of local beaches we have in Southern California.
Beaches are a prominent part of So-Cal culture, and because of our year-round sunshine, residents can still enjoy picturesque ocean views right in the middle of November! Beach-goers can also feel confident that their outdoor excursion will be a safe one, as all Los Angeles beaches are implementing Covid-19 regulations.
Below are some of our favorite beaches in Los Angeles, and even a couple dog beaches for the puppy parents out there. We hope you get a day to enjoy the waves and weather soon!
1. White Point/Royal Palms County Beach
White Point/Royal Palms County Beach is a great spot for everyone. Have a picnic, explore the tide pools and learn about sea life, or play around in the shallow waters. Common water activities include scuba diving and surfing, but the rockiness of the beach makes swimming risky.
2. Point Dume State Beach
This beach is best known for their sea life sightings. Dolphins are frequently spotted at Point Dume, and in the winter it's common to see grey whales on their migration journey. Most people go to Point Dume to surf, fish, and swim. But it's also a great spot for hiking, if water activities are not your style!
3. Manhattan Beach
Manhattan Beach has something to offer everyone. Hunt for sand crabs with the kids, fish on the pier, or swim in the designated swimming areas. Other popular activities include surfing and biking, and the beach is in walking distance to local restaurants and small shops for those looking to make a day out of their beach trip. Beach wheelchairs are also available.
4. Malibu Surfrider Beach
True to its name, Malibu Surfrider is a hot spot for surfers. The waves tend to be relatively tame and manageable for surfers of all levels. These conditions are ideal for swimming as well, but designated swimming areas are limited.
5. Marina Beach
Nicknamed "Mother's Beach", this is a nice spot for families with young children. The water is calm and there are shallow areas for kids to play. The lack of waves means there are no opportunities for surfing, making your family beach trip a bit safer for the little ones. Pack a picnic, or grab lunch from one of the many restaurants within walking distance.
Dog Friendly Beaches:
1. Rosie's Dog Beach
Pups visiting this beach have the freedom to be off leash (if they respond to voice commands), and there is tons of space for zoomies! Waves tend to be on the smaller side, so perfect for dogs that enjoy a good swim, as well as puppies just being introduced to the ocean. The beach is also clean, and parking is plentiful. Have fun!
2. Hermosa Beach
Ok, here's the catch: technically, dogs are not allowed on the beach. However! There is a path, known as the Strand, where people can walk with their leashed pets. The Strand is adjacent to the Hermosa Beach sand, and you can see the ocean while you walk your pup.
For those of you not yet living in Los Angeles, make your move, seriously! Pacific breezes are waiting, and Erin Alls is here to make the transition simple and smooth!
Learn More about Devyn Rheuby The Silicon Beach Homes Content Writer.