Living Closer to the Coast Could Make People Happier and Healthier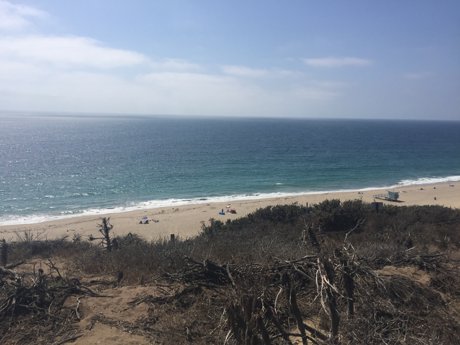 Beaches have been called paradise on earth for a long time. But there could be scientific facts to prove these claims now. If you have ever been to a beach, you can never forget the serenity of blue skies and warm weather. Actually it's a matter of fact that beach days are one of the loveliest ones to spend. Living close to the coast not only have a lot of activities and perks but you can also enjoy a lot better physical and mental health and lead a much happier life.
A study conducted in England by the University of Exeter did a very comprehensive survey on over 26,000 people from different economic backgrounds. They found out that people who live less than a mile from coast or seaside are 22 percent less likely to have any type of mental disorder compared to those who live 31 miles far away.
A lot of studies have shown that even a 20 minute out in nature can improve your mood to a great extent. Researches have shown that access to blue spaces plays an important role in the mental health and overall wellbeing of a person.
So the mental disorders especially anxiety and depression can be reduced by moving near the coast. Another study has shown that one of every 5 Americans suffer from mental illness. People living near the coast are less likely to experience fewer symptoms of mental or other health issues, maybe because of good weather or a nice waterfront.
Being No. 1 real estate agents, Silicon Beach Homes have been serving a lot of people enjoy the coastal side. They can make your life easier too by finding you a perfect home or condo in Silicon Beach and beyond.
Benefits of Living near Coast
Living near the coast has a lot of perks. Here are some of the benefits of getting your real estate residence near the coasts.
1. Rest and Relaxation
The soothing sea breezes and warm sands helps you reduce stress, thus making you relaxed. People are least stressed when the visit a coastline. An evening walk with your special partner or pet can open your mind and induces creative thinking.
Resting on the side of the coast has a really positive impact on the human body. You feel more fresh, energetic and relieved after making a visit to a beautiful seaside.
2. Fun & Recreational Activities
Staying active is essential for a healthy body. Working a full time 9 to 5 job in the city is a very tough routine and you can't enjoy and avail a lot of fun and recreational activities. The coast offers a variety of recreational activities that are good for your mind and body.
You will have a lot of activities to do including swimming, fishing, sunbathing, surfing, kayaking and much more. Not only adults, but kids would also love the idea of having so much fun and enjoying endless activities with such easy access.
3. Higher Vitamin D Levels
You get good sunshine near the coast, so more chances of absorbing Vitamin D. It is one of the vital components of the human body which is responsible for making bones strong and improving the immune system. Vitamin D deficiency can cause of a number of problems like Rheumatoid Arthritis, depression, hypertension, Crohn's disease and more.
People living in dull and gloomy environments are more likely to be Vitamin D deficiency. A house by the seaside would assure that enough Vitamin D is being consumed by your body to ward off these kinds of deadly diseases.
4. Fresh and Delicious Seafood
Resisting seafood any time of the year is not possible for a seafood lover like me. Beach town inhabitants have the privilege of having freshest seafood from the entire country. Going to the sea, catching your own fish and eating it has its advantage.
The fresh seafood be it shrimps, crab, lobster or just your regular fish tastes so much better. They are packed with healthy nutrients as compared to the frozen ones or the processed ones we usually get in markets.
5. Making New Friends
When you own a coastal real estate for you and your family, you meet a lot of people who could share the same interest as yours. Being in the coastal area, you might be spending a lot of time outdoors, which means meeting new people and more opportunities.
Networking with people can boost your business and enhance your productivity to a great extent.
6. Social Status
Social status is something a lot of people strive to show. Because real estate cost much more near coastal areas than in the city, so living near the coast automatically exhibits an aura of your persona to be successful.
For that Silicon Beach Homes can help you get affordable real estate property near seaside without breaking the bank.
7. Improves Sleep and Mood
We feel so relaxed when we go to the beach. This is due to the presence of negative ions in the air which helps in easily absorbing more oxygen. This results in the improvement of good feel hormone known as Serotonin. This assists us in getting a good baby like sleep and improves moods and reduces depression in mind.
8. Cure of Skin diseases
Because seawater comprises of minerals like sodium, potassium, magnesium, and Sulphur, they have a healing effect on the skin. Studies have shown that skin diseases like atopic dermatitis and Psoriasis can be effectively cured by seawater.
9. Reduces any risk of Cardiovascular & Respiratory problem
As we know that seawater is actually mineral-rich water and has a lot of benefits. The therapeutic nature of seawater helps decrease TG, TC index and MDA (Malondialdehyde) levels which can reduce the effect of any cardiovascular disease. It also assures no plaque deposits on the inner linings of the arteries.
The inflammatory respiratory condition like Sinusitis can also be healed by sea air as it contains the mist of saline water.
10. Body and Mind Wellness
As seaside living promotes an active lifestyle, you are ahead of body and mind wellness from the rest of the people. Fresh and soothing environment is better for both the body and the soul.
Life on the coast is absolutely amazing for a number of reasons and you now know why. So what are you waiting for? Let's move to a property near the coast and enjoy such a natural life where you could live happier and healthier.