Erin Alls, Founder
ERIN ALLS - Erin Alls, Real Estate Top Producer helps International Cash Buyers & Techies find homes in Silicon Beach LA. Erin Alls Real Estate. Search "ALL" of Silicon Beach and LA Homes.
Erin Alls - Real Estate in Silicon Beach LA
Platinum Customer Satisfaction Driven
Real Estate Industry Professional since 2003
Licensed Broker in both CA and NY
Sold Millions of dollars in Real Estate in both LA and NYC
Member of Top Producer Group
Certified e-Marketing Specialist
Social Media Guru with over 10K followers on twitter
Pioneer in focusing solely on the Silicon Beach area since 2013
International Cash Buyer specialist
Trained Negotiator
Buyer's and Seller's let Erin Alls put her years of experience in Real Estate to work for you. Erin Alls works with you to ensure a smooth transaction.
If you are selling your house or in the market to buy, give Erin Alls the opportunity to interview to be your agent. Your needs come first, Erin's phone does not turn off at 5:00pm. Erin Alls is an around the clock agent that has no issues with answering questions no matter the day or time.
Erin Alls will help you navigate the ever changing Silicon Beach Real Estate market and make sure you are educated to make decisions that will change your life for the better. Erin loves what she does and it shows. Erin Alls offers a fresh approach to Real Estate with client focused commitment. Erin will work hard to make sure that your are represented efficiently and at a pace you are comfortable with. It is with Erin's great pleasure to offer her experience and expertise to you.
Platinum Customer service is what drives Erin Alls every day to give the outstanding service. No matter the the type of transaction, or location Erin will work hard and will do her best to make sure your transaction is done with superior customer service. Our team are experienced professionals that have been in the Real Estate industry several years. We will serve you with a smile and confidence.
Why is Silicon Beach Homes Realtors different?
Erin Alls and her team are not stuffy, uptight or anxious. We are approachable, educated agents who speak the tech language. Global expertise is a service we offer our international clients. This is what separates us from other agents and firms. Our bi-coastal expertise (NYC & LA) allows us to focus on the highly desirable areas on both coasts.
We market locally and Globally to bring our seller's direct buyers. For our Buyer's our understanding of different cultures and languages helps us communicate and work with International purchasers with ease. We take the time to explain the costumery processes and procedures that will get the deal done. We will work with you no matter the day or time to get you exactly what you want.
We look forward to doing business with and for you.
Real Estate Rocks!
Founder/ Broker
Agents
Concierge and Support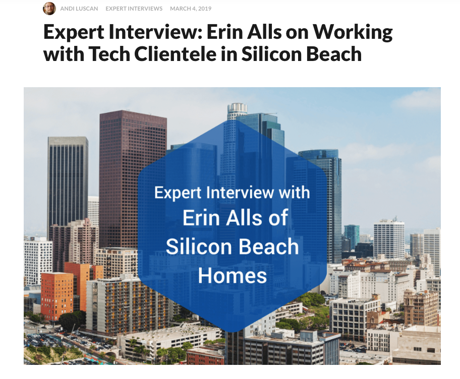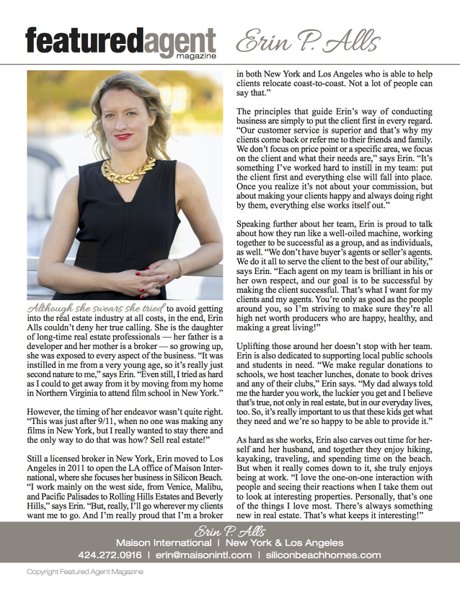 Erin Alls